Save CBGBs
CBGB is a symbol of raw American energy, for 31 years CBGB has provided a space for new creativity in music and art, a spotlight for young talent, and a unique safe-space to pursue art and free expression. CBs has always kept its prices affordable for all music lovers, evolved to fill the needs of the music and cultural communities of New York City, and jump started the careers of thousands of performers. Now CBGB needs your help to keep its doors open. CBGB does not own their space. The building is owned by SF Associates and rented to the Bowery Resident's Committee
(BRC). The BRC rents the entire building for aprox. $16,000 a month and charges CBGB's aprox $19,000 a month for their space (about half the building). The BRC is no small non-for-profit organization, they are a $25 million dollar a year group that receives over $15 million dollars from the city and state. The BRC also claims that CBGB has not paid their full rent for three years. In fact, the BRC has not properly billed CBGB for those years AND has not provided heat. The BRC is currently not negotiating with CBGBs for a new lease which expires August 31, 2005. They also have both properties listed and available on the Real Estate MLS for anyone else who wishes to rent 313 and 315 Bowery. CBGB supports the work of the BRC and is willing to work with them to reach an agreement and even assist the BRC in their mission to help the homeless – But now the BRC will not even talk to CBGB.
Please sign the petition below to help save CBGB.
So I did. Five times.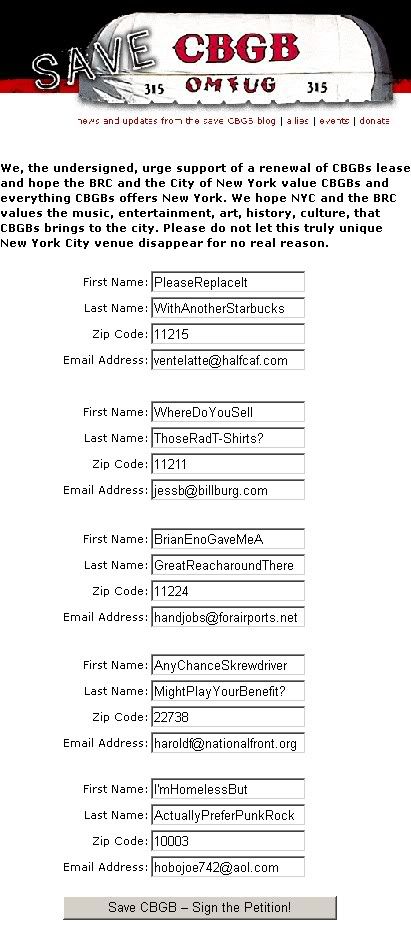 Get involved yourself at Save CBGB's.
Television - Blank Generation (Live at CBGB's '75)